Emerson News and Reminders to Start the 2023-2024 School Year
Download a printable PDF version of this page
See important dates and reminders below:
First Day of School for Grades K, 1, 2, 3, 4 and 5 is Monday, August 21st

Notification of Teacher
Many families have received their teacher name(s) at registration.  I will send/resend the teacher names to parents thru a personal text this Wednesday or Thursday for "registered students".
If you have not completed registration, please do so as soon as possible.
Our registration hours this week are Monday thru Thursday 8a.m. to 4p.m.  If you have any questions, please call us at 708-450-2002.
Supply Drop Off and Meet the Teacher
Friday, August 18th between 1:15p.m. to 2:00p.m. 
Parents and their students can bring in their student supplies and get to say hello/meet the teacher.  A quick and fun check in.   
District 89-Back to School Picnic, Saturday, August 19, 2023
(also see flyer on district website)
Location: Jane Addams School, 910 Division Street, Melrose Park, Illinois 60160
11:00a.m. to 1:00p.m.
Bring the kids and the entire family out for food and fun.  See me and Mr. Gray at our Emerson table for a fun game and back to school prizes for all!
First Day of School (for registered students)
Grades K to 5=Monday, August 21st   8:30a.m. to 3:20p.m.  (very important=students are marked tardy after 8:45a.m.  Classes begin at promptly at 8:45a.m.)
PreK=Wednesday, August 23rd (The PreK Department will share your child's am or pm schedule with you)
Student Line Up on First Day of School for Grades K to 5 (Monday, August 21st)
Kindergarten and First Grade on Playground
Second and Third Grade at Pine and 3rd Street Door
Fourth and Fifth Grade at the 4th Street Door
PreK Entry on First Day (Wednesday, August 23rd)
Your child's Arrival and Dismissal time will be shared with you by PreK Department.
PreK enters the front door on Washington Blvd.
Uniforms
Students must wear their school uniform each day: light-blue, white or navy-blue polo shirts/shirts, dark blue khakis or skirts, and all black school shoes (no sneakers except for gym can also wear school shoes for gym).
Emerson Campus Map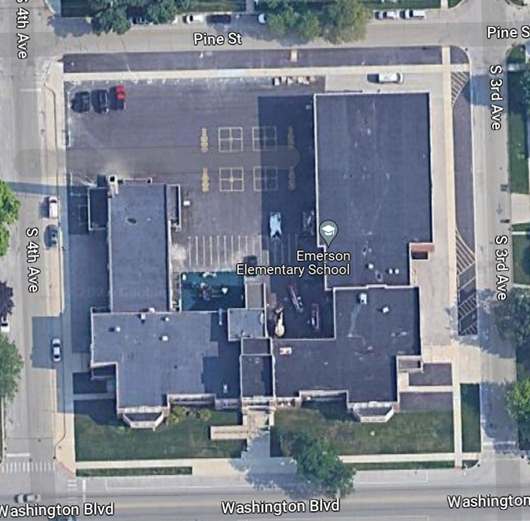 If you are driving and dropping off your child….
Note-There is no parking on 4th or Pine Street (for safety reasons). You must drop off and then exit.
If your child is tardy (arriving after 8:45a.m.) you must bring them to the school office door on Washington: Door A.  so the secretaries can log they are tardy, but present.